We've wrapped up the 2018 Cyclepalooza festival, and it's been another good year: crazy fixed-gear rides into dust storms, foldable bike off-roading, and a bike prom in a new (we hope long-term) venue. As one of the ride organizers and general helpers, I hear one question in particular a lot: "but what is Cyclepalooza?" It's kind of a hard one to answer, because it works on a lot of layers.
Cyclepalooza, the festival
A lot of people first hear about Cyclepalooza through the outreach we do up to and during the festival, which is 10 days jam-packed with different bike activities. But who organizes it? In essence, anyone can. Anyone can create a ride on the website, and they're now a part of a festival. This DIY approach means any silly or serious idea can be put on the public calendar in less than 5 minutes. You never know how many people might show up - it could be 5, it could be 50. It's the fringe festival of bikes, and you never know which ride will be this year's smash hit.
Cyclepalooza, the website
But wait! It turns out there are other events on the Cyclepalooza calendar that fall outside the 10 day festival. That's because the website is a year-round calendar. Yep, there's even crazy stuff in the winter, like Santa suit brewery tour rides. There's monthly "full moon" rides, history tours, and with a low barrier to creating new rides, interesting events pop up often.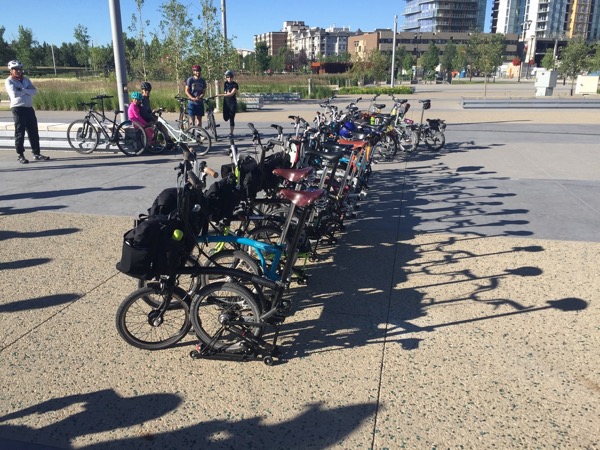 The Cyclepalooza "organization"
There's a loose-knit organizing body that keeps the party going - a revolving cast of volunteers. There's no real structure to speak of, just a divvying-up of tasks that starts around February and winds down around August. There's a body of institutional knowledge kept online, and much of the planning happens on mailing lists, rides, and around tables at a pub or a coffee shop. There's no pressure to continue doing the work from year to year, and there's always fresh blood keeping it going.
Since the rides are organized as a DIY affair, the job of the "organization" (if you want to call it that) is outreach through social media, regular media, and old-school street organizing (like bike rides to distribute cheaply photocopied 8.5 by 11 posters) - drumming up interest in both the creation and attendance of rides.
The entire operation is done a shoestring budget. Besides running the website and making photocopies, there's few expenses. This encourages thriftiness and creativity, and means that our time is spent on building as fun a festival as possible, not chasing down donations or advertisers.
Cyclepalooza, the dream
Cyclepalooza started because the various cycling groups in Calgary wanted to have festivals like Vancouver and Portland. These were people who thought Calgary could be world-class for bike fun. And in that respect, this event is a success. It has a built a community that encompasses more than just one group of riders (not just middle-aged men in Lycra).
It encourages cycling to be viewed through many lenses, turning the mundane into the profound (like a 'ride' this year where everyone was encouraged to walk their bike up a hill to show that you don't need to feel bad for walking hills)
It instills a sometimes-freakish amount of civic pride that many cities scream for, such as a ride where participants downloaded the city services app and sent in a mass of reports of potholes and poorly marked infrastructure.
It continues to evolve and mean ever more things to more and more people, a nebulous thing that brings a smile to people's faces.