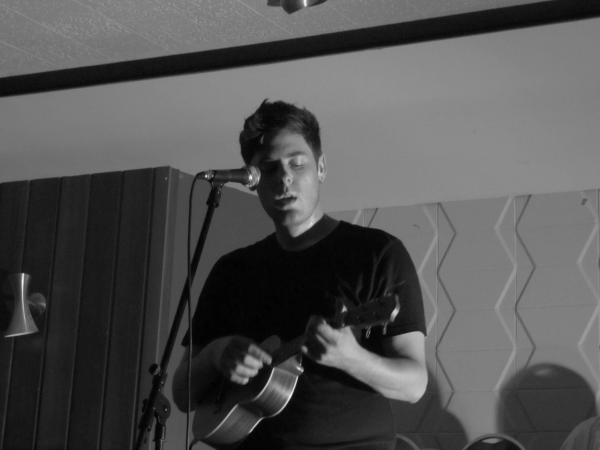 Joe Gurba's shows in Calgary have yet to disappoint (even in old and ugly places like the defunct Comrad Sound), and tonight was no different. Playing at the Local Library (the all-ages venue operating out of the Central United Church on 7th Ave.), The Joe rocked the young crowd along with cohort Doug Hoyer, whose latest album Walks with the Tender & Growing Night is already generating buzz and excitement.
After the opening bands (Free Nude Celebs and If I Look Strong, You Look Strong), Hoyer started the night off channeling David Byrne, playing ukelele ditties clad in a white jacket, easing into the songs from his new record. He made the most of the poor lighting in Local Library, and had everyone swaying along to the music.
The Joe came out super strong with "You're Cool," opting for a more lyrical performance as the venue wasn't lending itself to dancing. A bloody nose kept him from crowd-surfing, and was soon bleeding badly enough he had to cut the set short, but not before he blasted out "Klondike Days" to a pitch-black room full of fans singing along.
The Joe and Doug Hoyer will be back in Calgary on the return leg of their 7-week tour, playing at Broken City on August 24th, 2011. I managed to get interviews with Joe and Doug after the show -give them a listen!