The Calgary Vipers season is heating up as they've just finished their first in a five game series against the Yuma Scorpions, winning with a score of 4-1. The Yuma Scorpions are lead by player/manager Jose Canseco, who has captured the awe and ire of the Calgary fans already. The Tuesday game drew an impressive crowd, and with games going up to July 2nd, this is definitely the must-watch series of Vipers' season.
Tuesday's game saw Drew Miller get the sole home run of the game, with Watson pitching a fantastic 5 2/3's innings and Galva closing. The Scorpion's pitcher Romo was wobbly, managing two hit runners (and many more who were just fast enough to sneak away), as well as giving up the 4 runs to the Vipers. There was an incident early in the game where one of the Yuma players was using an illegal bat, costing the Scorpions the third out (and a run).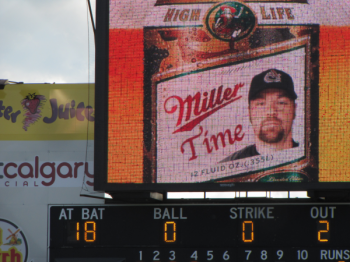 This series has two of the most dominant home run hitters in the North American League going head to head. Jose Canseco can still get plenty of power behind the bat, but Drew Miller looks to be in the best shape of his career. As well, the Vipers' fielding is reaching real maturity, with Louie Templeton snagging great catches from third base and an alert outfield who's responsiveness is leading to well-deserved wins. Canseco is a crafty veteran, though, and with the recent acquisition of former Vipers' player Brian Rios, shouldn't be counted out. This series could well be the most exciting one until the playoffs.