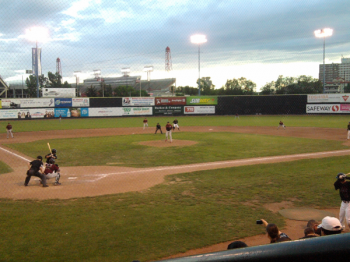 Game 2 of the Calgary Vipers/Yuma Scorpions finished up tonight, with the Vipers slamming the Scorpions a commanding 16-2. My earlier prediction that this would be one of the most exciting series of the season seems to be coming true, as the night saw player/coach Jose Canseco not only pound in his first home run of the season in the first inning, but also had him as Yuma's closing pitcher. As well, it was Brian Rios' last game in the North American League.
Yuma's bullpen proved even shakier with this game, with Jon Huizinga giving up 11 runs over 3 and a few innings. After Dorado and Freeborn, it was a surprise to the crowd as Canseco took to the mound. Pitching the 7th and 8th inning, Jose seemed to be enjoying the opportunity to throw the ball, and gave up only 3 runs over the 2 innings. While his pitches sputtered over the plate, he saved his bullpen's collective ERA, and managed to win over the normally critical (sometimes psychologically abusive) Calgary fans, receiving not one, but two standing ovations.
The Yuma bullpen will need to shape up if they want to have a win in this series, which still has 3 games to go. However, Jose is bringing an angle to the game that is unique to say the least. It will be quite interesting to see what other tricks he has up his sleeve as they head into Thursday night's game.