Boogie Down to Boogie's Burgers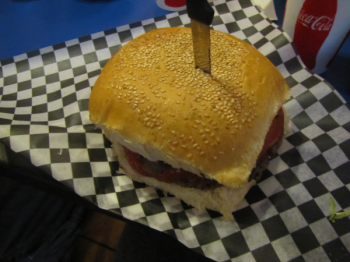 Hidden away on Edmonton Trail is the burger joint that is Peter's Drive-In Burger's main rival for burger/fries/shake supremacy. Boogie's Burgers has been operating for almost as long as Peter's, making some of the biggest and tastiest burgers in Calgary. Operating since 1969, this restaurant has been creating innovative styles of burger, making serious the claim that they have "The Official Burger of Deliciousness."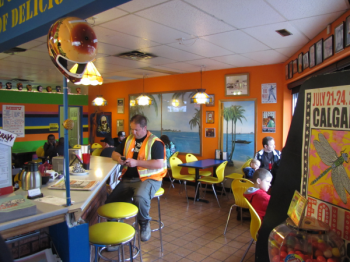 Stepping inside of Boogie's you almost get the feel that you've walked into a cool burger joint from the 80's, as there are coin-operated arcade machines lining the interior, with the classics that one would expect (such as Ms. Pac Man, Donkey Kong and Arkanoid). There's a swear jar if you mention Peter's Drive-In, and the quirky decor one would expect for an Anti-Peter's.
The burgers are large and tasty, coming in a variety of styles, such as the Pizza Burger, the "Boog Mac," and the "Don't Fear the Reaper" Burger. Their shake flavours range from common fare to the Fat Elvis shake (which is peanut butter, banana, and bacon) and the Angry Aztec (which has cayenne pepper). They are also licensed should you want a beer with your burger.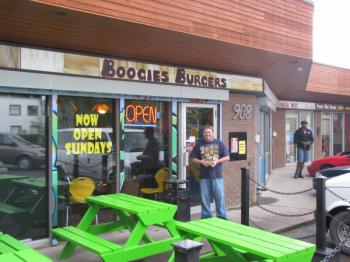 Boogie's Burgers lives up to the hype, and is definitely worth checking out. The prices are reasonable, the food is great, and the staff are great. You really can't lose.
Boogie's Burgers is on 908 Edmonton Trail NE, check their website for operating hours
Other posts