Australian Rules Football in Calgary
Since getting hooked on Australian rules football last year, I've been wanting to watch a game live. Fortunately, Alberta has an AFL-associated league, and they regularly play games through the summer. I got a chance to go to a game recently and watch the action up close.
| |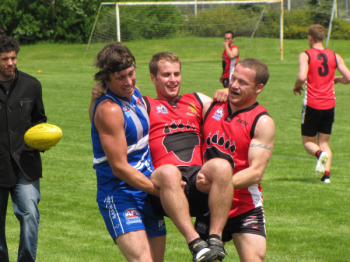 Aussie rules is a mix of rugby, soccer, football, and long-distance running. Oh, and there's no padding, except maybe a mouth-guard. To win you need the most points, which you get by kicking a ball that's roughly shaped like an American football through posts at one end of the field. This sounds like it should be easy, except you're being chased down by brutes ready to slam you into the ground to take possession of the ball.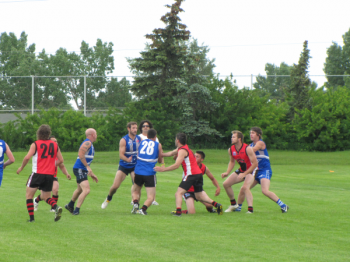 It's free to watch the Calgary teams play, and a fantastic way to whittle away a Saturday morning. If you like what you see, you can see the schedules or even join the league here
Other posts