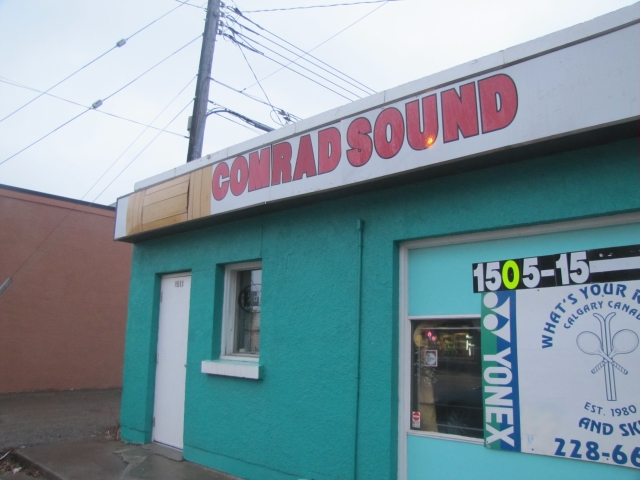 If you've ever walked down 14th Street in the southwest of Calgary, you've probably seen the ghost of the old Comrad Sound building. What used to be the Commercial Radio Sound building was for a brief time the most interesting all-ages venue in the city. Seeing it the other day reminded me of an Old Ugly rap show I saw there. Fortunately, I wrote the details of the evening down.
Sitting on a couch at Comrad Sound. The rappers are all late. A bunch of hipsters are sitting around. Bored and annoyed that the show is already an hour late, I offer to play the drums set up in the corner if someone plays guitar.
A girl with retro glasses and curly black hair that's tied up in the back says "I would, but for me playing is really private. Like me sitting in the laundry room for 8 months. The government can send me money." She giggles, but her answer leaves me even more annoyed.
"That's a lame excuse."
She shrugs her shoulders, in a you just don't understand artists sort of way.
"Anyone else willing to make a fool of themselves and have a bit of fun?"
A guy in his late teens says "I would, but I'm hungover." He's wearing jeans and plaid, which looks blue collar, but I'm not buying it. I imagine he probably drinks Pabst Blue Ribbon while he's listening to shitty indie trash.
There's some cute girls flipping through a crate of vinyl and inspecting the cassettes. The whole time I'm thinking I was born in the wrong decade. I am in a room of fresh-faced bored young kids, and I'm the old guy sitting on the couch.
The Old Ugly rappers finally get in. The snowstorm added 3 and a half hours to their road trip, making their arrival all that more welcome. The Joe starts walking around the room and personally introduces himself to everyone (which is only 15 people, so it's kind of sincere).
The Joe started off with "You're Cool" and ripped up the set with his fast lyrical flow. Midway through his set, he asks if he can crowdsurf. Someone in the back of the crowd says "yes" nonchalantly. To the amazement of everyone, The Joe then leaps Superman style into the small group, missing the floor by only an inch or two. "There's gotta be a word for that," he said. Yes, Joe Gurba, there is a word for that -spec-fucking-tacular.
Mikey Maybe was up after that, and laid down rhymes over his Gameboy drum machine. Grayscreen was up after him and played Gameboy compositions using up to 3 hacked Gameboys at once.
Mitchmatic then did a quick but incredible set, managing to 1) create a new dance move, 2) do a standing backflip, and 3) impress the shit out of everyone with his skills on his Akai sampler. For a show in front of 15 people, it was an incredible display of virtuosity. After the show, I meet up with The Joe again and thanked him for putting on a good night.
"Are you a musician or promoter?"
"No, not anymore anyway."
"Oh, you're just a music lover?"
"Yeah, that's it."
"That's good!"