Resting up from a rough night, I was reading the paper in my apartment when I heard blood-curdling screams from outside. Running to the balcony, I saw that a full on zombie horde was ambling down 12th Street, congregating towards Shaw Millenium Park. The Calgary Police call it "Zombie Walk," but the concerned citizens fighting for their lives called it straight-up terror. I took pictures and documented the ensuing chaos as it unfolded at the park.
The zombies appeared to be dancing to "Thriller," which proves Michael Jackson's most powerful contribution to humanity was the ability to lull the zombies into an excited shambling. There were manic cries of "What do we want? Brains! When do we want them? BRAINS!"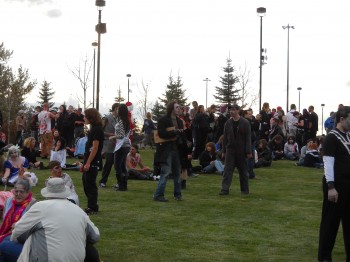 The fields were filled with zombies of all stripes: baby zombies, dog zombies, even Trekkie zombies waving signs that said "I'm dead, Jim!"
The terrified skateboarders and bikers who frequent the skate park quickly (and wisely) headed for higher ground.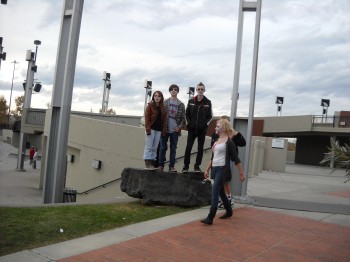 Even Calgary's well-known hipster crowds were infected by the terrible zombie plague.
Going after the zombie's head is not enough to stop their menace towards the general populace.