When people think of the Calgary downtown waterfront, they probably think of Eau Claire and Prince's Island Park. However, just east of Princes Island is a cultural haven of early Chinese influence in Calgary known as Sien Lok Park. Established in 1982 by the Sien Lok Society, the park is a response to the increasing urban development that is threatening Chinatown. Not only that, it's a pleasant park to spend a day in.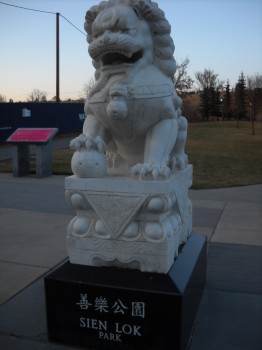 The park definitely embodies a very modern vibe, which mixes well with its historical purpose. This is made material by the two major art pieces that currently dominate the park, both of which were built within the past ten years.
Gold Mountain is the centerpiece of the park, and its 15-ton presence certainly does inspire one to give it a look. Carved into the rock is a visual history of the Chinese pioneers in Calgary, and you're encouraged to wander around it and touch it. Surrounded by seating, this alone makes it worth the walk.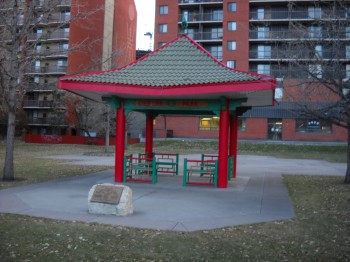 But that's not to say that Gold Mountain is the only thing worth seeing in the park. With all the little bits of history chiselled into stone and metal, the park makes for a fine afternoon jaunt. The park affords a spectacular view of the Centre Street Bridge that only gets better as the sun sets. A picnic basket, a book, and the sights and sounds of the waterfront turn this into a good way to spend a weekend.
Information about the Sien Lok Society can be found at their website. The park is to the west of the Centre Street Bridge on the Downtown end.