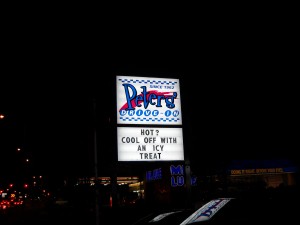 I guess you could say I have a soft spot (and a hardened artery) for a great cheeseburger. Peter's is a burger joint that has burgers that are delicious and quality-control normally reserved for Japanese sword-making.
You can't help but compare other burgers made in Calgary to a Peter's Drive-In burger. Established in 1962, Peter's does great business. All day, every day. The pictures I've taken are at 10 at night on a Thursday, which isn't exactly a dining hour in most of Canada. There's always a line when I'm there, and they serve burgers with incredible efficiency.
Looking inside the windows, the workers wear hospital scrubs, taking their job with the seriousness and care of diamond-cutters. Several of the workers have worked over 25 years at Peter's, and it's quite obvious they take pride in their work. The protocol hasn't changed much since they first opened: the person at the window writes down your order on the back of the bag. No calculators or tills - they've memorized all the prices. They don't take credit cards or debit - just cash, whipping through each order with practically no wasted time. The burger is simply delicious. They don't try to make it look pretty, but that's alright. Everything is fresh (no preservatives needed), and the meat is definitely the good stuff (flavourful with terrific texture). The smell grabs you right away, and I couldn't help but take a few bites before I took the picture.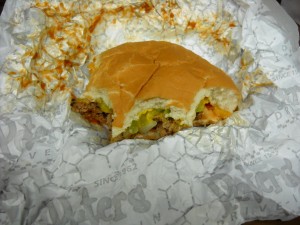 They encourage mixing shake flavors. Boasting 4,500 combinations, you'd never have to have the same thing twice.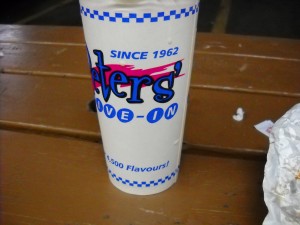 There's lots of folklore surrounding this eatery. One of them is that Peter's has been offered countless sell-out offers. This I can believe, as I've never seen them not busy. Since they wouldn't be able to guarantee the quality control, they never wanted to expand. I've seen good shops become decent chains, but the drop from good to decent always ends up being pretty disappointing. I admire their focus of quality over profit, as it makes all the difference.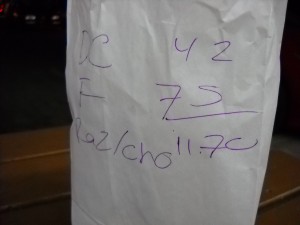 You'll be able to find cheaper burgers than Peter's. However, at the prices Peter's charges, you would be incredibly hard-pressed to find anything nearly as tasty.
Prices and directions are located at the Peter's Drive-In website