Nellie's Cosmic Cafe makes a mean breakfast
17th Avenue is not only fantastic for the nightlife, it also just so happens to have a great little breakfast joint in Nellie's Cosmic Cafe. While some places try to over-complicate breakfast, Nellie's focuses on delivering the highest-quality classics in a comfortable diner setting.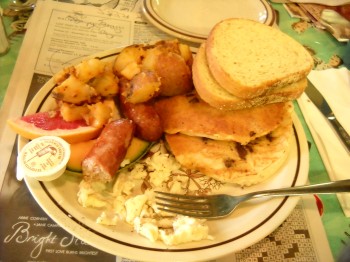 On this particular outing, I got the Belly Buster plate (it smelled so good, I couldn't help but chow down before taking a picture). Eggs, sausage, pancakes, toast, hash browns, and fruit slices, all for 12 bucks. On top of that, bottomless coffee which is topped off often. In all, this is the one of the heartiest breakfasts you can get in Calgary, served till' late.
Nellie's is located on 17th Ave and 10th Street, SW
Other posts