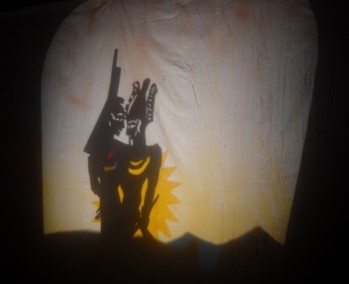 When one makes a list of the top theatre companies in Calgary, there's no doubt that the Green Fools is on the list. Having seen their latest performance called "Isis: A Shadow Opera," I can say they've only further cemented their position. With top-notch musicianship, a great story, and prime local talent, this is a puppet show you'll want to see.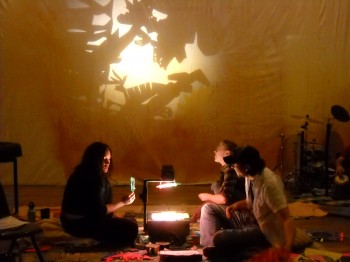 One would imagine that three people doing full-motion puppetry on a solitary overhead projector would be insanely difficult. Now imagine doing it while singing. Jamie Konchak, Brent Podesky, and Simone Saunders all worked in perfect unison, allowing a suspension of disbelief that is very hard to attain in theatre, and made the story all the more interesting. The story, written by Jennie Esdale, is a retelling of Egyptian mythology, and the love story of Isis and Osiris. As the evil Seth tries to break their love, the backdrop is lit up with striking visuals of the gods, the underworld, space, and more.
In order to make a puppet show a sensory overload, you'd need great music, and that was definitely brought out with Vi An Diep, Rory Dolinski, and David Rhymer - all quite accomplished musicians on their own. If David Rhymer sounds familiar, it's because he was behind the One Yellow Rabbit production Ilsa, Queen of the Nazi Love Camp. The mix was superb, leading one to wonder if they plan on creating an ensemble at some point in the future (fingers crossed).
For details on show times and tickets go to the Green Fools website. If you go to the nearby Humpty's, you can easily make this a cheap dinner and a show date.