[Update: sadly, the Lido Cafe is no more, but the memories remain]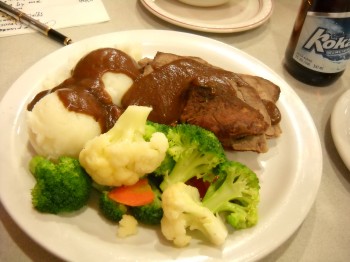 In Calgary a restaurant can be here today and gone tomorrow, and when I saw that the Lido Cafe was closed I was really bummed out. Fortunately, it turned out they were just spiffying the place up, and have kept the diner feel that keeps the locals coming back.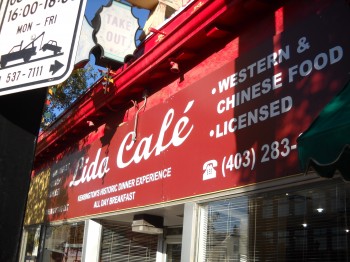 I went with my friend Kevin at about 6PM, and a charming waitress got our orders. We kept feeding the table jukebox quarters while we waited for our food. Kevin got a burger with fries and I got the roast beef dinner, with both of us getting beer (the Lido is licensed).
Kevin assures me that the burger was tasty, and the proportions looked generous. My roast beef dinner came with roast beef and gravy, mashed potatoes, buttered mixed veggies, a dinner roll, and mushroom soup. The mushroom soup was... bad. It looked like Campbell's soup with too much water. However, that was the only bad part of the meal, and easily pushed to the side. The roast beef was tender, and the highlight was definitely the gravy. Such was its deliciousness, I ended up dipping the dinner roll in it.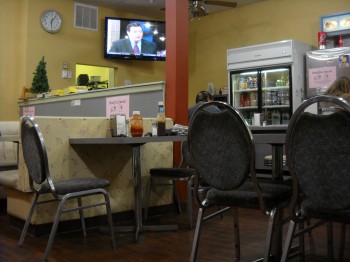 The Lido Cafe is off the north end of the 10th Street Bridge, near the Peacock Boutique. Try their breakfast special, as that's pretty good, too.