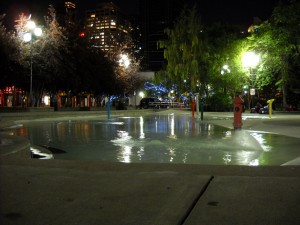 There's always some kerfuffle about how people should buy local. The economic benefits are obvious, and people say they would shop local if they were given the option. Posh, clean, and busting at the seams with culture, it's not hard to see that the Eau Claire Market should be the toast of the city of Calgary. If you haven't made a trip over lately, you're missing out on one of the more unique public centres. If you haven't made it out yet, let me give you a few reasons to go...
The busking scene is the first thing you notice when going to Eau Claire - as in, there are buskers. It's rare that there aren't local artists and buskers playing and displaying in and around the market. There are usually art exhibits going on in different, as well as community areas as well. If you are looking to hear from some of the more interesting local acoustic acts, the open air park yields some great talent. Be it Vi An Diep on gu zheng or Darcy North on accordian, you'll get a live flavour that's simply not found in most of workaday Calgary. The kids are always the first to dance and get in to it - it's a riot to see their stiff-as-cardboard parents trying to pull them away from the sounds and sights.
There's plenty of other fun for kids there. Inside the market is a giant plastic fun-house, which clearly is a hoot if the children squealing are any indicator.  There's also the outdoor water playground, which during the summer time gets fairly regular use. Prince's Island Park is a skip away, where there's playgrounds as well.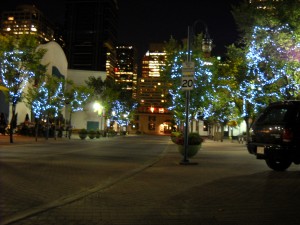 The food court offers plenty of local-run establishments. The big winner has to be Mendie's, which for $6.50 will get you a cheeseburger combo that puts many burger chains to shame. Burger combo in hand, the Eau Claire Market chill-out area has leather seats and free wi-fi - a good way to whittle away the afternoon.
All in all, the Eau Claire Market delivers an experience which is hard to match  - funky, unique shops that are literally one-of-a-kind, the favor of local artists, and chilled out attitude which is sorely lacking. It's like the Farmer's Market, but easier to get to with public transit and more subdued. The indoor mall need not be a hurried, relentless capitalist hellhole: it's refreshing to be in a place where you could sip a cup of coffee with a friend and not feel as if you had to BUY BUY BUY. If you have a Sunday to spare, bring a laptop and absorb the vibes - Calgary's ruthless for tearing up public spots, so enjoy it now while the going is pleasant.