Connaught Park a nice d-spot to chill out
Calgary has perfected the art of building passive parks amidst hubbub -calm, serene areas to relax within walking distance of excitement. A little known d-spot hidden away in the south-west corner of the downtown is Connaught Park on 11th St. and 14th Ave. SW. More pretty pictures and info under the fold!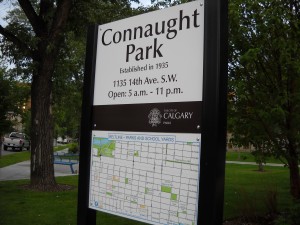 Connaught Park was first designated a park in 1935, with an upgrade in 2008. Everything is still pretty new, lending a dash of freshness to the historic Connaught neighbourhood.
The park has a fine stone square, with several tables providing shelter from the sun. There's plenty of spots to lock up bicycles, grass for kids to run around on, and room enough for small gatherings. With several little restaurants and coffeehouses nearby, its an ideal spot to whittle away a weekend afternoon with a book.
The stonework is very precise, and is worth a look if you only get the chance to stroll through on some dusky evening. Well-placed lanterns lend this little park a romantic touch that gives it appeal that lasts into the wee hours.
Source: City of Calgary
Other posts