Century Gardens - A Little Slice of Heaven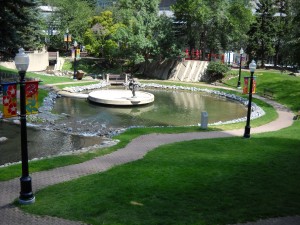 The Calgary downtown is full of bustle during the workday - business people running all over the place, cars ripping through the streets, homeless people pushing their shopping carts into the horizon. In the eye of the storm of activity is Century Gardens, on the corner of 8th and 8th SW. Lush greens, a beautiful stone structure with waterfalls, and statues aplenty makes this a d-spot perfect for an afternoon lounge. More pictures and fun below the fold.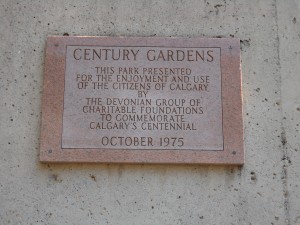 Century Gardens was given to the City of Calgary by the Devonian Group in 1975. Like any Calgary construction project, it was over-budget (to the tune of $700,000).
Size-wise, Century Gardens is second only to Prince's Island Park in the downtown.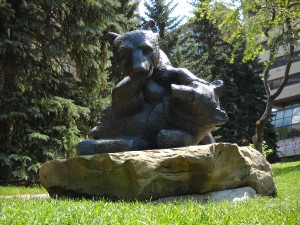 This statue is BEAR-y nice! (yuk yuk yuk)
This statue is called "Alberta Family," but is also lovingly referred to by many Calgarians as "the Midget Toss."
The irony of this statue is that the rules of the park clearly state that there is to be no game-playing in the park.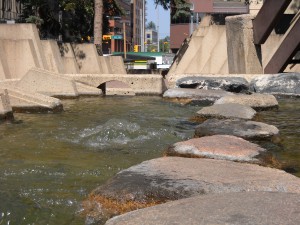 Sadly the City of Calgary is planning on "redeveloping" the park as part of the Centre City Project. Hopefully, that isn't politics-speak for "leveling the park and leaving some tacky benches."
Source: City of Calgary
Other posts