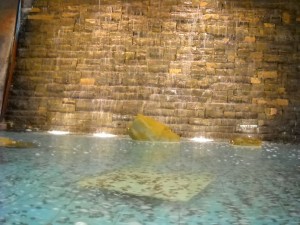 Airports aren't thought as a nice place to whittle away an afternoon. The general impression of airports is a stressful environment, one of cavity searches, lost luggage, and missed flights. However, the Calgary International Airport has such a chilled-out environment that one could mistake it as one of the many malls that pock the Cowtown landscape. When was the last time you went to the airport just to hang out?
The Calgary International Airport (strangely known by the acronym YYC) is beautifully lit with large windows, illuminating some of the nice mobiles and structures hanging from the ceiling. YYC uses subdued colour schemes and has plenty of artwork on the walls, a nice contrast from the more hurried airports that you'll come across.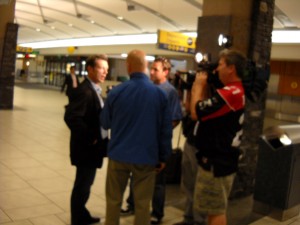 Even famous people have been known to come through the YYC. Above is who I'm pretty sure is Calgary Flames hockey star Theoren Fleury, though I don't know if he bothered to stick around the airport.
There's a nice little bar and food court on the upper level, and even a relatively well-stocked Virgin book store.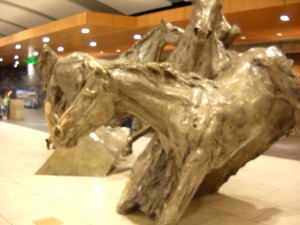 There's currently tentative plans to extend the C-Train out to the YYC. For the time being, the best way to get there by public transit is the 57 bus from Whitehorn station.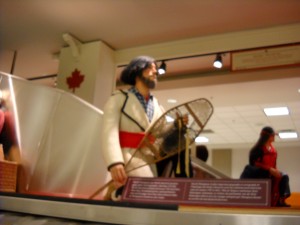 There's no shortage of Canadiana in the YYC. The luggage area has some interesting exhibits that are worth a look. If you have any trouble looking for other art exhibits in the YYC, be sure to ask one of the White Hats volunteers who roam the airport.