Having left Sackville, New Brunswick just as the music scene started blossoming (a la Sappyfest), I long for the sound that I know from those days. Sitting in George's Fabulous Roadhouse, I would hear Shotgun & Jaybird, the Port City All-Stars, Gary Flanagan, and more - always exciting, fresh, innovative. When I heard that BA Johnston and Shotgun Jimmie were swinging through the Ship and Anchor on 17th Ave, I knew I had to go.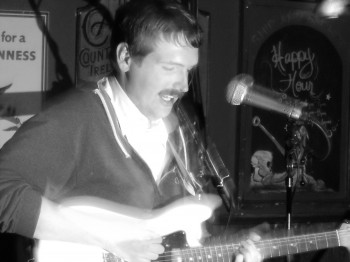 Shotgun Jimmie opened the night up with a strong set, mixing music from the Shotgun & Jaybird days with his new stuff. A one-man band, he played the drums with his feet (using kick pedals) and hammered a solid beat throughout. He has married the guitar sound of 60's electric blues to 90's indie rock to great effect, and has a genuinely good time performing. His on-stage presence had the audience at ease and softened up for the coming onslaught of BA Johnston.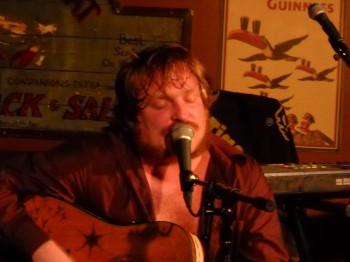 BA Johnston is, if nothing else, a great showman. Some may not like his sound or bizarre lyrics, but even on a free show he turns on his craziness full-blast. Like a minimum-wage KISS concert, BA amps up the energy while climbing speakers, running through the crowd, and doing "The Worm" on the beer-soaked floor. With a Hamilton Tiger Cats backdrop, low-grade pyrotechnics, and songs such as "Hobo 4 Life" and "My Heart is a Blinking Nintendo," he's definitely an act that's to be seen to be believed.
To cap off the evening BA invited the crowd into the men's bathroom, where he played two sing-a-long songs while perched atop a sink. The bar packed into the tiny bathroom, and though the smell of urine and chemical cleaner was pungent to the nose, not one person had a bad time as he crooned about zombies eating girlfriends.